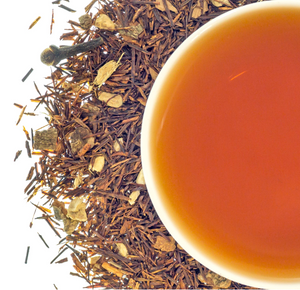 Vibrant, spicy, aromatic, invigorating, and still caffeine-free. This is a full-bodied cup with a plethora of Indian spices; great straight or as chai with milk and sweetener.
The base of this herbal tea is rooibos. Rooibos is 100% caffeine-free. All rooibos comes from the Republic of South Africa, typically from the western mountainous region around Cedarburg. It has been drunk as an herbal tea for centuries in this area, and it is produced and served in a manner similar to traditional English style black tea, up to and including the adding of milk and sugar.
Suggested Steeping Instructions:
3 grams | 8 oz water | 212°F | Steep 5 min. 
Ingredients:
rooibos, ginger root, cinnamon, natural flavor, clove
Number of Cups:
Order includes 2 oz. of tea, which generally equates to 20 eight-ounce servings.