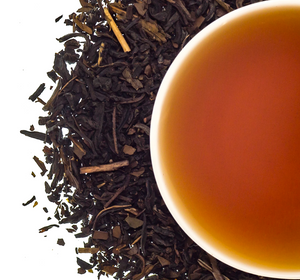 If you love the roasted flavor of coffee, you'll love this roasty-toasty tea that fills your senses. Deep, dark, and rich with a delicious aroma. It has a roasted nut flavor with a little sweet silkiness. Add cream and honey, or sip it solo, it's fantastic!
Suggested Steeping Instructions:
3 grams | 8 oz water | 212°F | Steep 3 min.
Ingredients:
black tea, yerba maté, green tea, natural flavor
Number of Cups: 
Order includes 2 oz. of tea, which generally equates to 20 eight-ounce servings.