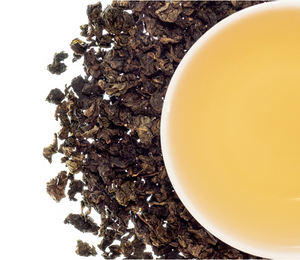 Skillfully made by Mr. Lin Rui Fu of Fujian, China, this storied tea is a page-turner. The cup layers the flavor of roasted almonds, sweet honey, and flowers. You won't want to put it down! 
Iron Goddess of Mercy is synonymous with Ti Kwan Yin (which is also the name of the cultivar). The tea is named for the Chinese Buddhist goddess Kwan Yin, who according to legend made a gift of this tea to a poor farmer in the Anxi region of Fujian because he had gone to great trouble and hardship to take care of Kwan Yin's temple.
Suggested Steeping Instructions:
3 grams | 8 oz water | 195°F | Steep 3 min.
Traditional Steeping Instructions:
 6 grams | 6 oz water | 195°F | Rinse 5 sec. | Steep 30 sec.
Ingredients:
oolong tea
Number of Cups:
2 oz makes 20 eight-ounce cups.
Order includes 2 oz. of tea, which generally equates to 20 servings.