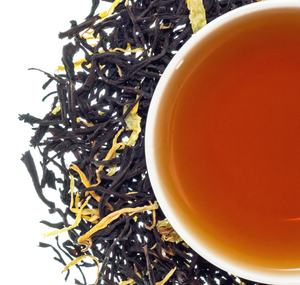 A best-seller at Tea Lyn's. Velvety, smooth, strong, and aromatic with a hint of bright citrus. This is a unique and addicting blend. 
Earl Grey tea is a very aromatic black tea blend, originally made with Chinese black tea and oil of bergamot. Bergamot is a citrus fruit (an obscure branch of the orange family) grown around the Mediterranean. Bergamot is rarely eaten fresh (very bitter), but is wonderfully aromatic with a citrus tang.  Add the creme, which is a soft vanilla and milk flavor, and it further mellows out the citrus-like flavor of bergamot.
Suggested Steeping Instructions:
3 grams | 8 oz water | 212°F | Steep 3 min.
Ingredients:
black tea, natural flavor, calendula blossoms
Number of Cups:
Order includes 2 oz. of tea, which generally equates to 20 eight-ounce servings.