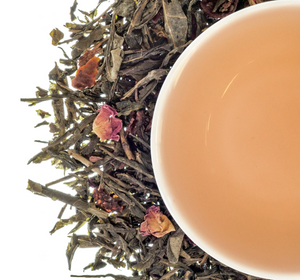 Strawberry Sencha Green Tea is a delightful green tea blend that is aromatic and flavorful, like fresh strawberries from the farmer's market. This tea always wins out when we serve it chilled over ice. Super nutritious, this tea is filled with vitamins, minerals, and filled with beneficial antioxidants.
Suggested Steeping Instructions: 
Use 1 heaping tsp per 8 oz. boiling water. Steep 3-4 min. 
Suggested Steeping Instructions: 
3 grams | 8 oz water | 175°F | Steep 3 min. 
Ingredients:
green tea, rosehips, natural & artificial flavor, wild cherry bark, hibiscus, rose petals, beet root powder
Number of Cups:
Order includes 2 oz. of tea, which generally equates to 20 eight-ounce servings.