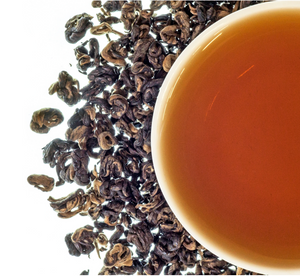 A favorite tea (no, really!) of ours, and we know because our supply ran out once and it felt like missing an old friend.
These tightly curled golden leaves yield a cup that is very rich and smooth with a hint of a dark cocoa/caramel note. Sometimes called Golden Snail, this tea is almost never seen in the West.
This tea originates in Guangxi Province and is made for us Ms. Amy Chen, who has had her own tea company since 2004.
We deeply love this gentle black tea that transports us to China, to a merchant serving hot tea under an awning lining an old street filled with locals milling about. 
Suggested Steeping Instructions: 
Use 1 heaping tsp per 8 oz. boiling water. Steep 3-4min. 
Ingredients:
China black tea
Number of Cups:
Order includes 2 oz. of tea, which generally equates to 20 eight-ounce servings.